---
"A couple that will date a unicorn, they function as a unit. So it's like you're dating a unit that has a feminine side, and a masculine side. You kind of just assume there's no secret between them, they know each other and they know all your communication with either one of them. And for me, at the moment, I wasn't ready for any serious committed exclusive relationship then. So, I was still trying to find out what love is and what a satisfying, successful relationship would look like, what kind of man I should be looking for — I still wasn't sure, so I was still exploring at the moment. At that moment. And … I love seeing couples loving each other. So for me, as a unicorn at the time, I loved dating couples that really truly love each other, and I love seeing them in love. I love seeing him loving her, I love seeing them making love, I love seeing them happy. And that kind of a love between them make me happy. So that's […] compersion. And that's also what people in this community always pride themselves for, like, 'We have compersions, we are happy, we celebrate our partner's happiness, even if it's, you know, while having sex or dating with other people, even while there could be a conflict of interest."
– Elaine
unicorn (noun) = a (rare, magical) person who dates a couple (most commonly refers to a bisexual woman who dates a male/female couple)
---
---
Welcome back to horizontal with lila, the podcast about intimacy (sex, love, and relationships of all kinds) that's entirely recorded while lying down. Many episodes (like this one), are recorded in bed on my Casper mattress at Hacienda Villa, a sex-positive intentional community.
In this episode, I lie down with my housemate Elaine.
Elaine is a consummate world traveler — it's quite the feat to catch her at home, but on one of her brief stays at the Villa I got lucky. In between jaunts to her home country of Taiwan and remote islands, outdoor sailing adventures and the climbing of mountains, running races in Europe and engaging in other extreme sports and endurance activities (as she puts it, "like sex"), we had the chance to don some robes and get horizontal.
Elaine lives in the room across the way from me, a space so tiny that it has only a skylight and no window. She calls it a closet — but she means it as a good thing. She likes closets. She enjoys how cozy it is.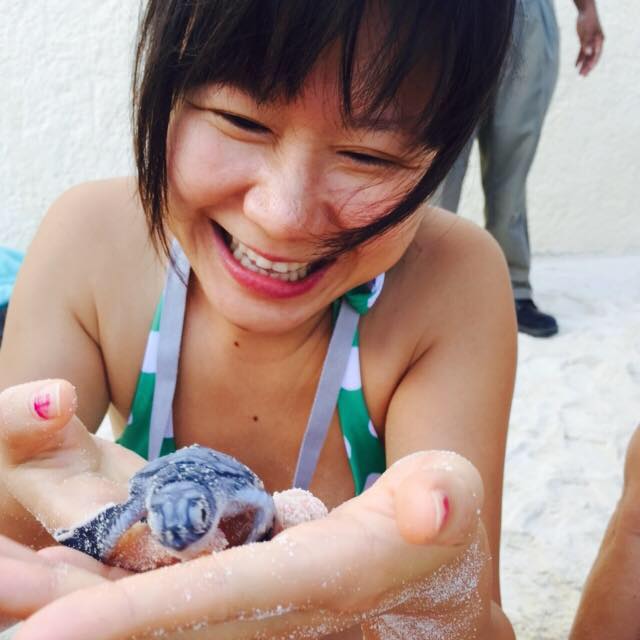 Elaine holds a PhD in Biomedical Engineering and has done 10 years of stem cell research and patent prosecution for Biotech Startups. She cooks Taiwanese food that would make you wish she were your wife, and she has a deep and abiding love for turtles — so much so, that she doesn't travel the world alone. Even when she's by herself, she always brings her stuffed turtle along. The turtle's name is Dr. Turtle. (not pictured)
I experience Elaine as unfailingly kind, possessing an incredible amount of grit, and her candid explicitness, combined with a voice that sounds like it belongs in an anime cartoon, delights me to no end.
In the first half of our episode, we talk about how she came to live at the Villa, sex camp, the differences between swingers and poly people, and Elaine's very first fetish party.
Hey, c'mere.
Come lie down with us!
---
Links to Things:
"Inside Bushwick manor that is a haven for polyamorous tenants," the first Lila heard about the Villa
"Confessions of a Real-Life Unicorn," an article about dating couples, by friend of the Villa, Alana Heiss
The Box, a sexy nightlife performance art venue.
Big Magic, by Elizabeth Gilbert, a book for creative humans
---
Show Notes (feel free to share quotes/resources on social media, and please link to my iTunes, this website, or my Patreon!):
iTunes link: https://itunes.apple.com/us/podcast/horizontal-with-lila/id1238031115&ls=1
website link: https://horizontalwithlila.com/
Patreon link (the crowdsourcing of patronage!): https://www.patreon.com/horizontalwithlila
[3:10]  Elaine's Women's March experience in Washington D.C.
[4:10]  "It's  a huge diverse protest too, but everybody was protesting toward the same goal, which is equal human right, and that could be anything possible under this big umbrella." – Elaine
[4:47]  Elaine's favorite signs were about taking ownership of one's body. "It's my body to give, not yours to take."
[4:57]  The most intense and heartfelt moments that Elaine experienced at the march. Amazing story. I wonder if it was about this woman.
[7:57]  How did Elaine come to live at Hacienda Villa? Who brought her in? (We sometimes call this our "origin story.") It was pitched to her as "the first polyamorous house in NY."
[11:00]  How did Lila come to live at Hacienda Villa? From Acro to blues and fusion dancing to game night to thrift shopping to real estate.  It was pitched to her as a "sex-positive intentional community."
[15:00]  The NY Daily News article about the Villa that made Lila aware that the Villa was a thing. Seemed sensationalized.
[16:00]  Lila is writing a book about being a founding member of the Villa. (Wanna publish it?)
[18:20]  What is "sex camp" in the Adirondack park?
[20:07]  Elaine's facilitator role. What Lila calls a "poly translator," and what Elaine says is, "just a unicorn."
[21:22]  "What a unicorn does in dating couple is, not only you have fun with the couple, you also facilitate their relationship, too, sometimes. Like, couples, they have fights, and as a unicorn, being loved by both of them, you would go and try to make them love each other again. So, I did that." – Elaine
[22:10]  What's it like dating a couple?
[24:12]  Has Elaine always been compersious? Is it a skill? Is it something that Lila can learn? Or is it a gift or a character trait, that you either have or you don't have?
[26:10]  "Oh, I don't think it's a character trait that you either have or you don't have. It highly depends on the dynamic you have between you and your partner. Because there's definitely partners that I have in the past, that I just felt completely insecure about. And there's just something about them, or about the relationship that made me feel unsafe or insecure, and things are ambiguous and unclear, and I wasn't sure about my own value, I wasn't sure how he felt for me, I wasn't even sure how I felt for the relationship. And then, if there is another person there that he's connecting with, then suddenly I will feel jealousy and I will feel 'Oh, this person is a threat to our relationship.' And when I feel the relationship is threatened, then, I can't be compersious … But definitely there are partners where I have a very very strong and honest and very healthy relationship with in which we both trusted each other one hundred percent. In those relationships somehow I just would genuinely feel happy when my partner feel happy connecting with another person. It's rare because having a really healthy, hundred percent honest, strong relationship is very rare, but I feel that's pre-requisite to have a — to feel compersious towards your partner sexually connecting with another person … right in front of you, even." – Elaine
[28:15]  The partner that Elaine valued so much that she wanted him to have sex with her girlfriends! "I remember me and my ex— a guy I had a really healthy relationship with — I will introduce my girlfriends to him. I will want him to, you know, have sex with my girlfriends, because he's really good in bed, and I want him to be a good boyfriend to please my friends. You know? You want your boyfriend to be on the best behavior so all of your friends like him, so I want him to fuck my friend, and I want him to perform his best, to make sure that my friends are happy in bed. And I want my friends to like him, obviously, so I will secretly hook them up, and I will even be there, physically, facilitating … and when he made her come, I will literally high-five him. Yeah, I say, 'Good job, I love you,' and he's like, 'I love you too.' And always, always, after such adventure, we became emotionally closer, the connection between us just grew stronger and stronger, with each of these … adventures, I call it. But of course the relationships had to be really healthy. And it was. That's why I enjoyed it." – Elaine
[29:45]  Lila's fear about compersion.
[30:21]  What was the big secret of Elaine's engagement?
[32:53]  How Elaine entered the nonmonogamous world.
[34:30]  Elaine's first triple date (sort of), at The Box, a sexy nightlife performance art venue.
[35:49]  The Box act which made the strongest impression on impressionable young Elaine.
[36:59]  The first time Lila heard about female ejaculation, aka squirting.
squirting (verb) = the act of vaginal ejaculation
[39:05]  Elaine's second date with the man who took her to The Box (and his wife).
[39:11]  Elaine tells Lila a story about her first fetish party.
[40:53]  A story from Elizabeth Gilbert's book Big Magic.
"Twenty years ago, I was at a party, talking to a guy whose name I have long since forgotten, or maybe never even knew. Sometimes I think this man came into my life for the sole purpose of telling me this story, which has delighted and inspired me ever since.
The story this guy told me was about his younger brother, who was trying to be an artist. The guy was deeply admiring of his brother's efforts, and he told me an illustrative anecdote about how brave and creative and trusting his little brother was. For the purposes of this story, which I shall now recount here, let's call the little brother 'Little Brother.'
Little Brother, an aspiring painter, saved up all his money and went to France, to surround himself with beauty and inspiration. He lived on the cheap, painted every day, visited museums, traveled to picturesque locations, bravely spoke to everyone he met, and showed his work to anyone who would look at it. One afternoon, Little Brother struck up a conversation in a cafe with a group of charming young people, who turned out to be some species of fancy aristocrats. The charming young aristocrats took a liking to Little Brother and invited him to a party that weekend in a castle in the Loire Valley. They promised Little Brother that this was going to be the most fabulous party of the year. It would be attended by the rich, by the famous, and by several crowned heads of Europe. Best of all, it was a masquerade ball, where nobody skimped on the costumes. It was not to be missed. Dress up, they said, and join us!
Excited, Little Brother worked all week on a costume that he was certain would be a showstopper. He scoured Paris for materials and held back neither on the details nor the audacity of his creation. Then he rented a car and drove to the castle, three hours from Paris. He changed into his costume in the car and ascended the castle steps. He gave his last name to the butler, who found him on the guest list and politely welcomed him in. Little Brother entered the ballroom, head held high.
Upon which he immediately realized his mistake.
This was indeed a costume party — his new friends had not misled him there — but he had missed one detail in translation. This was a themed costume party. The theme was 'a medieval court.'
And Little Brother was dressed as a lobster.
All around him, the wealthiest and most beautiful people of Europe were attired in gilded finery and elaborate period gowns, draped in heirloom jewels, sparkling with elegance as they waltzed to a fine orchestra. Little Brother, on the other hand, was wearing a red leotard, red tights, red ballet slippers, and giant red foam claws. Also, his face was painted red. This is the part of the story where I must tell you that Little Brother was over six feet tall and quite skinny — but with the long waving antennae on his head, he appeared even taller. He was also, of course, the only American in the room.
He stood at the top of the steps for one long, ghastly moment. He almost ran away in shame. Running away in shame seemed like the most dignified response to the situation. But he didn't run. Somehow, he found his resolve. He'd come this far, after all. He'd worked tremendously hard to make this costume, and he was proud of it. He took a deep breath and walked onto the dance floor.
He reported later that it was only his experience as an aspiring artist that gave him the courage and the license to be so vulnerable and absurd. Something in life had already taught him to just put it out there, whatever 'it' is. That costume was what he had made, after all, so that's what he was bringing to the party. It was the best he had. It was all he had. So he decided to trust in himself, to trust in his costume, to trust in the circumstances.
As he moved into the crowd of aristocrats, a silence fell. The dancing stopped. The orchestra stuttered to a stop. The other guests gathered around Little Brother. Finally someone asked him what on earth he was.
Little Brother bowed deeply and announced, 'I am the court lobster.'
Then: laughter.
Not ridicule — just joy. They loved him. They loved his sweetness, his weirdness, his giant red claws, his skinny ass in his bright spandex tights. He was the trickster among them, and so he made the party. Little Brother even ended up dancing that night with the Queen of Belgium.
This is how you must do it, people.
I have never created anything in my life that did not make me feel, at some point or another, like I was the guy who just walked into a fancy ball wearing a homemade lobster costume. But you must stubbornly walk into that room, regardless, and you must hold your head high. You made it, you get to put it out there. Never apologize for it, never explain it away, never be ashamed of it. You did your best with what you knew, and you worked with what you had, in the time you were given. You were invited, and you showed up, and you simply cannot do more than that.
They might throw you out — but then again, they might not. They probably won't throw you out, actually. The ballroom is often more welcoming and supportive than you could ever imagine. Somebody might even think you're brilliant and marvelous. You might end up dancing with royalty.
Or you might just end up having to dance alone in the corner of the castle with your big, ungainly red foam claws waving in the empty air.
That's fine, too. Sometimes it's like that.
What you absolutely must not do is turn around and walk out. Otherwise, you will miss the party, and that would be a pity because — please believe me — we did not come all this great distance, and make all this great effort, only to miss the party at the last moment."
– Elizabeth Gilbert

Become a patron of the horizontal arts, by supporting me on Patreon, a website for crowdsourcing patronage! Patronage allows artists like me to buy equipment, schedule recording tours, and devote my time to creating more horizontal goodness, for you! Becoming my patron has delicious benefits, ranging from exclusive photos and behind-the-scenes video content, to handwritten postcards, spring cleaning phone calls, and creative input on future episodes! You can become a patron for $1 a month on up, and the rewards just get more sumptuous.