---
"I never really had the conversation with — not even my parents (even though they're divorced) I never really had the conversation with them: What did it mean for you to get married? Why did you get divorced? I know some of the pieces there, but— And then also Chimene and I never had the conversation in-depth before: What would it mean to get married? What would our relationship — what would we want it to look like? How might that look like 15 years from now? Or 20 years from now? I just never was exposed to any kind of conversations like that. And also there — would have been great if somebody, or I mean, I could have also sought this out, but that was not my mindset back then — but if somebody would have been able to take me aside and say, 'Hey, by the way, these might be the couple of questions you want to ask yourself, these might, or ask your partner, ask yourselves together, and then go from there.'"
"You can design your own marriage. You can design whatever you want, right. Five years, seven years, check-ins, what kind of questions, what kind of intentions you want to put into it, […] religious, not religious."
– Philip
---
---
Welcome back to horizontal with lila, the podcast about intimacy (sex, love, and relationships of all kinds) that's entirely recorded while lying down.
This episode, as an experiment, was recorded in the event space of Hacienda, called Hacienda Studio. It's roomy and echo-y, we're marooned on a little island of a mattress with a purple sheet in the middle of a huge space that spans almost the entirety of the brownstone, and the house itself makes some noise, as if it wants to be a third character in our conversation. My sound mixer was not best pleased that I recorded in a cavern with no sound treatment — but, it was worth the experiment!
---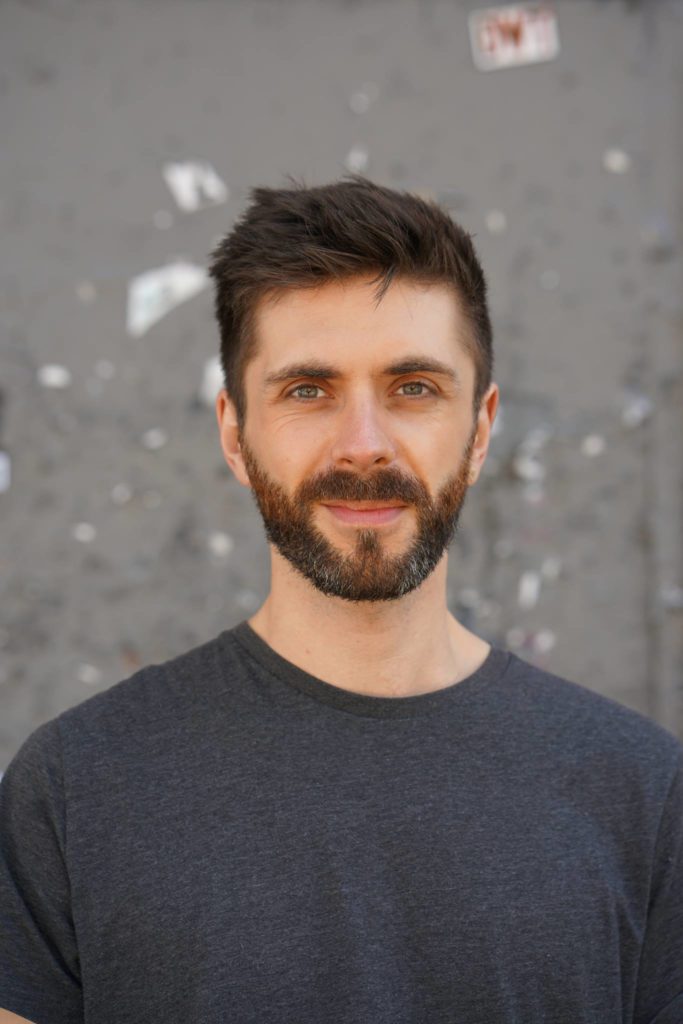 In this episode, I lie down with Philip Stehlik, of the sex-positive venture Cambyo.
Cambyo is designed to help people develop their intimate lives. Through their online publication, research, community building, and in-person events (such as a sort of salon-style meeting in which people are invited to share their experiences around intimacy, sexuality, and relationships in semi-public), Cambyo aims to cultivate a safer space for people to discuss.
On Medium, they publish real stories about people's intimate lives. If you want to contribute a story of your own to the ongoing, destigmatizing dialogue, please reach out to them!
I first met Philip at a small cocktail party in the West Village. Philip and Cambyo co-founder Matt Hunter were in town for just a few days, and by the strength of their charisma alone — well, and also a little nudge from Bryony Cole, host of the fabulous sex tech podcast "The Future of Sex" — they gathered a mix of sex tech entrepreneurs, educators, activists, and therapists together for a night of conversation.
Philip is German, and now resides in San Francisco's sex-positive nexus.
He's an excellent communicator, a world-class hugger, and somehow his presence simultaneously both calms and excites me  — I wish he lived in New York!
In the second half of this episode, we talk about marriage, TLM, handfasting, the divorce of Lila's parents, check-in, making a baby, and I like, I wish, I wonder.
Won't you please…come lie down with us.
---
Links to Things:
Cambyo, Philip & Matt's venture, designed to help people develop their intimate lives
Cambyo on Medium, real-life stories about intimacy, curated by Philip & Matt
"She was 37, I was 23 – Reflections on nine years of marriage," one of Philip's essays
On TLM (Time-Limited Marriage) — This article is in place of the one I was seeking, which appears to have been scrubbed from the internet! All links to the Men's Health article I remember reading ("The Cure for Divorce," written by the TV producer Tad Low and published in the July/August 2005 issue) redirect to an unrelated article of the magazine. Could this be because he changed his mind? A source article on his Wikipedia page is his 2013 wedding announcement in the New York Times. I wonder if he still privately believes in Time-Limited Marriage, but no longer wished to receive the flack for being the public advocate of it, or, didn't want to hurt his wife's feelings…
Handfasting, a Pagan ceremony of engagement
i-like-i-wish-what-if, Stanford design school's method of giving feedback
---
Show Notes (feel free to share quotes/resources on social media, and please link to my iTunes, this website, or my Patreon!):
iTunes link: https://itunes.apple.com/us/podcast/horizontal-with-lila/id1238031115&ls=1
website link: https://horizontalwithlila.com/
Patreon link (the crowdsourcing of patronage!): https://www.patreon.com/horizontalwithlila
[3:05]  What did Philip and his wife think about marriage before they got married?
[6:07]  Lila on the divorce of her parents — a child psychologist and a social worker — and their communication.
[6:57]  From what age does Lila begin having memories?
[9:19]  What Lila told her peers after moving to Florida when her parents divorced. "I would say 'Yeah, it's better. You know, they were unhappy — it's much better that they're not together.' So I never really dealt with the — how devastating it was to be removed from my father, and from my home, and, you know, start this new life with my mother, with whom I had a lot of conflict." – Lila
[9:58]  The Pinterest board that Lila doesn't tell her lovers that she has. How does Lila feel, emotionally and intellectually, about the prospect of life-long commitment?
[11:02]  TLM (Time-Limited Marriage) and Handfasting
TLM (Time-Limited Marriage, abbrev., noun) = a marriage contract for a predetermined amount of time (7 years, 5 years, 3 years), offering those involved the option to renew, or not to renew, when the contract has concluded
handfasting (noun) = a historically Pagan ceremony to proclaim a committed engagement period of a year and a day
[12:36]  "So the Time-Limited Marriage idea is that, every 7 years, there is a renewal of our cells, and often a great shift in our mindset, and so the idea is that you make a contract, because it's — marriage is a contract — right now it's a binding lifelong contract that most people break, but if you set it at, in this case it was seven years, and you say 'Ok, we'll make a go of this for seven years and then we can think about: Do we want to renew?'" – Lila
[14:00]  For Lila, what is a great benefit of being around nonmonogamous people and their relationship questions?
[15:02]  "You can design your own marriage. You can design whatever you want, right. Five years, seven years, check-ins, what kind of questions, what kind of intentions you want to put into it, blah blah blah blah, religious, not religious."
[15:27]  Lila's fantasy of having a wedding without the legal piece.
[16:38]  "I still have not figured out the vast majority of everything, anything in my life!" – Philip
[16:50]  Philip wonders if his wife realized what a huge risk she took in marrying him.
[17:32]  "Would I do it again, if I would know all the pain that's kind of – would be coming our way? If we're in a good spot at that point, it was like, 'Yeah, maybe I would do it again.' Because, like it's, actually we both learned a lot about ourselves and grew a lot. But then also there are times when we definitely said, 'Fuck! What did I get myself into here?'" – Philip
[19:43]  Philip and his wife's strategies for engaging with each other — processing style, reading books on non-violent communication, and introducing breaks (including a 2-minute break).
[21:40]  The exercise that Philip and wife do weekly. Their I like, I wish, I wonder is a slight adaptation of the Stanford design school's i-like-i-wish-what-if method of giving feedback.
[21:22]  Alex's friend and her partner set aside "Spring Cleaning" time to talk about difficult things without being interrupted.
[25:03]  The Check-Ins Lila hosts at Hacienda Villa, a format she picked up from a visit to a nearby intentional commmunity, 3B.
[28:04]  Philip tells Lila a story about his wife's pregnancy.
[32:27]  "I can do everything right – I can have big dreams, I can be a nice person, I can – whatever – but I have literally no idea how it's going to turn out. I could die tomorrow, literally." – Philip

Become a patron of the horizontal arts, by supporting me on Patreon, a website for crowdsourcing patronage! Patronage allows artists like me to buy equipment, schedule recording tours, and devote my time to creating more horizontal goodness, for you! Becoming my patron has delicious benefits, ranging from exclusive photos and behind-the-scenes video content, to handwritten postcards, spring cleaning phone calls, and creative input on future episodes! You can become a patron for $1 a month on up, and the rewards just get more sumptuous.