Anya, tied and shot by Kanan.
---
Lila:  So, growing up, you actually had a model for an ideal relationship — you looked at your parents and you thought, "That looks good. They look happy."
Jackie:  Absolutely. Even now, when I'm surrounded by all these alternative relationship styles, it is difficult for me to imagine not being in something … family-related, a platonic relationship type thing like that.
Lila:  What do you mean?
Jackie:  I mean that, I now see all of these different ways to have relationships, but when I think about what I want, I cannot deny the influence of a functional, happy family.
Lila:  Yes.
Jackie:  So I see that and I think that I do, to some extent, want what I saw them having. Which is, what I assumed and still assume to be a happy marriage, in a house that they shared, with family.
Lila:  Yeah. Does it now expand to include an idea that you could have that and other lovers or, and other partners in the house, or, nontraditional—
Jackie: Yeah… So my thing is that I'm not — I don't think of myself as poly enough for the poly kids but I'm not monogamous enough for the monogamous kids. So I imagine having one stable partner, like my parents did, but unlike my parents, I also imagine continuing to do things that involve intimacy with other people, like rope or, parties, or things like that. Not necessarily that I want many serious relationships — 'cause I don't — I just want access to other people.
Lila:  In some kind of intimate way.
*
Lila:  But until I read An Unquiet Mind I didn't talk to anybody about it, I didn't know anybody else who had it, and I would kind of pretend that it wasn't the case, but I did observe my mom to have her "up" times, and … you know, I don't know what else to call, you know, going to the dollar store and going on a shopping spree — of, you know, buying fifty th- little things, from, from the dollar store.
Jackie:  Right, so she's not able to self-identify her own manic episodes, but you saw them to be there.
Lila:  … possibly. I think she hasn't had one in quite a long time. And she's been stable-ish, but veering on the depressive border. And lately it's been, it's been really bad, she's been getting up and going back to bed … for much of the day and she knows that she needs to go dancing — 'cause ballroom dancing is her good medicine. She knows she needs to go to the YMCA and to swim and she knows all these things that she can do that bring her joy. She can't bring herself to do them. So she is in a position right now where her medication is not … it's not balanced. The, the cocktail isn't the right mixture. It's not the right amount of things. Or. Something is interacting with something else in a way that is not allowing her to remain … even? And … there's nothing I can do.
---
---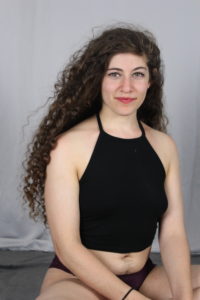 In this episode of horizontal, I lie down with Jackie, aka Anya or, Anyalita.
Anya is a Shibari aficionado — a rope artist. You can follow her adventures in surrender on theropediary.tumblr.com and on Instagram as Anyalita. On The Rope Diary, she introduces herself as "a rope and bondage enthusiast, a sadomasochist, a sensualist, and a switch."
She is also a sex tools educator who works at Babeland, a queer-owned, lady-friendly sex toy shop. I have great love in my heart for Babeland, as it was the first sex shop I ever felt comfortable in.
When we recorded, she had a cold, so she sounds rather snuffly. But I don't think you'll mind.
In the first half of this episode, we talk about happy parents, unhappy parents, depression, self-soothing, and a first kiss with a kitchen boy.
Come lie down with us.
---
Links to Things:
theropediary.tumblr.com, Anya's blog
instagram.com/anyalita, Anya's just-the-photos
Babeland, the finest sex tool store in all the land
nJoy stainless steel dildos and other stainless steel wonders
An Unquiet Mind, Kay Redfield Jamison's memoir about having mental illness while treating mental illness
Cognitive Behavioral Therapy, an alternative to psychotherapy
The 5 Love Languages Quiz, information I've found very useful for relationshipping
---
Show Notes (feel free to share quotes/resources on social media, and please link to iTunes, this website, or my Patreon!):
iTunes link: https://itunes.apple.com/us/podcast/horizontal-with-lila/id1238031115&ls=1
website link: https://horizontalwithlila.com/
Patreon link: https://www.patreon.com/horizontalwithlila
[7:03]
Jackie:  Well now they're getting older and my mom is … unhappy … almost … pathologically, like, she's sad.
Lila:  Mine too.
Jackie:  And … my dad is … successful. Very very successful. He gets offers to travel all the time. And he does. And things are difficult between them, now. And I was always much more able to see my parents as people than my sister was, so, if they did split up or, you know like … the possibility is not foreign to me, but, it was just very different, the idea that something that seemed very functional when I was younger is now no longer as functional as it was.
[7:58]  What made their relationship take a downturn?
Lila:  Do you — can you pinpoint a turning … a shifting point?
Jackie:  Well I can't tell if it has to do with circumstance, or if it's just like the natural progression of, of my mother's, and I'm sure my, like mental states, right? Like she's unhappy and I don't know if it's because of life or if it's because of him or if it's because of … brain chemistry, or if it's a combination of all of them, which I'm sure it is.
Lila:  Do you know if she's considered clinically depressed?
Jackie:  (immediately) Oh she is, we all are. (laughs)
Lila:  Including your father?
Jackie:  Ok, so, everyone in my family has like some level of serotonin deficiency, but it is most aggressive in my mother and in me.
Lila:  Yeah.
Jackie:  Um, we are very very similar and, people take Zoloft in my family like it's a vitamin, so we call it Vitamin Z. (both laugh) And, um, although me and my mom both switched to other ones, Lexapro and Celexa, just to see if it would offset some side effects, which it did not, for either of us.
Lila:  The same side effects?
Jackie:  Similar genre, different side effects. Sexual in nature but not, the same the same sexual thing.
Lila:  Did it inhibit your libido?
Jackie:  Um, it did not. It did not, um. For me, it's just very, very hard to come. But, I don't know if that's the medicine's fault, because I've been on the medications longer than I've been sexually active.
[9:37]  When did orgasms come into Jackie's life?
[12:15]  Lila's mother's diagnosis.
[13:00]  An Unquiet Mind, by Kay Redfield Jamison, the book that taught Lila about her mother's mental illness.
[15:18]  How did Jackie gather the tools to deal with mental health struggles?
[16:08]  Jackie:  Now, when my mother tells me very sad things about how she feels, which she does because we think very much alike and have a connection that's unique, I'm able to understand that she's not trying to … burden me with this information, but I am a person who will understand, and while it makes me sad, I know that it's not my fault. And I know that she won't do anything drastic.
[17:06]  Lithium and Lila's mom. The story of the accidental overdose and learning Portuguese.
[21:05]
Jackie:  That's what happens. You grow up and you grow down again. It's a sad truth of the human brain.
Lila:  I wonder if it really has to be that way. There's the guy who studied all the octogenarians and, and older — the healthy ones — and they just kind of decided that they weren't gonna feel old, basically, they just decided they would just continue to do the things—
Jackie:  Right well, if you don't degenerate — if you don't get Alzheimer's or Parkinson's or dementia, then you get to keep your languages. But not everybody— gets that—
[21:54]  Lila's brief experience taking Zoloft and the reason she resists medication for her sadness.
[23:30]  Jackie:  I was very angry, I was very aggressive, I was quite impulsive, and I was uh, compulsive, obsessive, you know, things like that, but I created systems for myself as a child, and trained my brain to work differently when things were really bothering me, like, when I was in elementary school, I would be obsessively betting that I could cross a tree or a sidewalk square before a car passed. And I would do this obsessively over and over and over again and I recognized it was getting in the way of my life and it was— bothering me, so I created a mantra, which was "It's not time for bets; it's not time for promises," and whenever I started to move into this obsessive place in my mind, I would say the mantra until I moved out of it, which I now know is called cognitive behavioral therapy, but I would make these systems for myself as a kid to try and train my brain out of the things I didn't want it to be doing, which I still do.
[24:51]  How Jackie uses a similar technique now when she's worst-case-scenario-ing.
[28:12]  Jackie and Lila both have a habit of tactile self-soothing.
Lila: We talked about— the other day about— sooth— how we both soothe ourselves—
Jackie: Oh yeah, this tactile, like, nail caressing type of business, on the collarbone.
Lila:  You said that you caress your collarbone, I find myself …
Jackie:  Or my arm, inside of my arm.
Lila:  Yes.
Jackie:  My chest.
Lila:  Yes.
Jackie:  My hips. The side of my waist is a good, nice, sensitive place. I'm a very tactile person. Very sensory in general.
Lila:  And I only recently realized that it was something I was doing to soothe myself. And I experimented in a […] meeting […] I experimented with staying very still as I was listening to people. Because I didn't want it to be a tic or something I couldn't do without. And I could certainly do it, I can sit still, I meditate, and I sit still. But—
Jackie:  Or you could pet yourself.
Lila:  … yeah.
Jackie:  Why would you not?!
Lila:  Exactly, and that was the conclusion I came to was that I didn't need to rid myself of this very simple medicine … that helps me. I think that I have been looking for ways throughout my whole life to deal with the anxiety that was present in my household because of my mother, and the anxiety that is very likely genetically embedded in me. And this is one of the ways I have found that is so innocuous. You know, so what if I'm tracing my hand along, along the inside of my arm or, you know, touching my necklace or touching my earring or—
Jackie:  When I was a baby my mother and my father could not get me to shut up I was crying and crying and crying and some old lady walked up to them and was like, (crone voice)  "May I?" (Lila laughs) I assume, I assume. And then took me and just ran her fingers along the inside of my arm and I shut right up! So they learned very early on that I am extremely responsive to physical affection and I got back rubs all the time, 'cause my mom was also a professional massage therapist at one point. I got back rubs every night to go to bed. It was a very snuggly family, lots of cuddles, puppy piles we call it, when we all pile on the bed. Lots of caressing, and so I've always been like that.
[30:49]  Jackie's love language is physical touch. (Mirelle and I spoke more extensively about love languages in episode 1!)
[31:41]  Will Jackie date someone who has depression?
[32:15]  Jackie:  I like to be the more dysfunctional one in any relationship.
[33:17]  The partner who broke up with Lila for being sad. The way Lila discharges sadness so she doesn't have to cry.
[36:42]  How did Jackie act as a "confessor" during her prudish years?
[39:01]  Jackie: I was very rule-bound. I made rules for myself. And the rules were: No fucking up in these typical teenage fuckup ways. So I didn't drink, I didn't smoke, I didn't have any boyfriends or anything like that.
[39:18]  Jackie tells Lila a story about orchestrating her first kiss (with a kitchen boy).

Become a patron of the horizontal arts, by supporting me on Patreon, a website for crowdsourcing patronage! Patronage allows artists like me to create independent, uncensored, and (to this day) ad-free work. I use the funds to hire an editor, schedule recording tours, throw horizontal storytelling pajama parties, and devote my time to creating more horizontal goodness, for you! Becoming my patron has delicious benefits, ranging from exclusive photos and behind-the-scenes content, to handwritten postcards, horizontal robes, and creative input on future episodes! You can become a patron for $1 a month on up, and the rewards just get more sumptuous.